The Challenge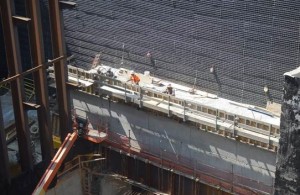 The East Side Access Tunnel project is one of the largest transportation infrastructure projects currently underway in the United States. The project includes more than 11 miles of tunneling that encompasses work in multiple locations, in Manhattan, Queens and the Bronx. The vast majority of the project is in an urban setting, making material delivery difficult due to severe space constraints and the scope of the job. In order for this massive undertaking to keep moving forward, a variety of infrastructure improvements must be constructed. A 63 ft. high mechanically stabilized earth (MSE) temporary retaining wall with ten-year design life was required at the Bellmouth project site.
The Solution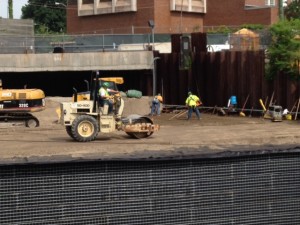 The StrataWall solution incorporated hot-dip galvanized 4x4 wire form facing elements with geotextile and geogrid facing wrap capable of satisfying project requirements, which also addressed the strict time and budget constraints on the project. The original project specifications and plans called for a steel-reinforced wire wall that would have been both cost prohibitive and difficult to construct given the tight working area. The StrataWall was constructed to fill a 70-foot hole that abutted vertical walls on either side. Materials had to be delivered with a crane into the hole where the MSE wall was constructed. Since StrataGrid is rolled and easy to handle, it made material transport and delivery much more efficient. The StrataWall system and design met project requirements and provided the needed 10-year design life.
The Result
Tutor Perini Corporation installed approximately 30,000 sq yds of StrataGrid. The use of a StrataGrid reinforced MSE temp wall to solve this grade separation issue was a major cost savings versus the cost of conventional technologies. Strata provided superior technical support, an efficient method of material shipment and a project solution that met their client's budgetary concerns.
Chad Clark, P.E., Principal at Clark Geotechnical, said, 'The quality of Strata's products and services allowed Clark Geotechnical, LLC to design the temporary retaining wall system with confidence. This was important to us given the significance of the overall project and critical nature of the temporary wall. And, the structure is likely one of the tallest single height MSE temp walls constructed in the U.S. using welded-wire form facing and geogrid reinforcement.'
By building the temporary MSE wall with StrataGrid, Tutor Perini accomplished their mission of providing the project with a 10-year design life MSE temp wall and construction of the East Side Access tunnel continues to progress, and will eventually provide faster, safer travel to over 162,000 passengers per day.