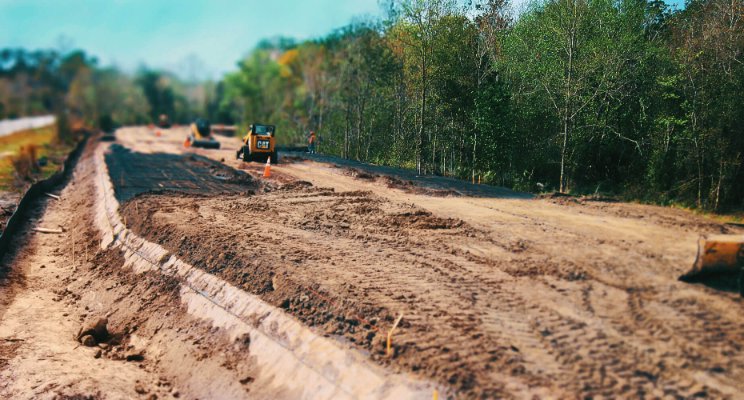 The US Bureau of Labor Statistics estimates that more than 6.6 million people work in construction each day. They contribute to the development of more than 250,000 job sites, each of which includes risks to site personnel. Heavy equipment, falls from heights, arc flashing, and trench collapse are some of the many risks construction site workers and planners must guard against.
To all the engineers, earth works operators, site laborers, contractors, and others who invest the time in making construction safer, we say thank you.
HOW GEOSYNTHETICS IMPROVE SITE SAFETY
When geosynthetics are used in construction and engineering, earthworks will be involved. For the creation of stable slopes and walls, the construction of roads, and other situations involving geosynthetic reinforcement of soils and stabilization of aggregates, a large amount of earth may need to be moved.
But, one of the advantages in the use of geosynthetics is that their use can minimize how much earth must actually be disturbed. Mechanical stabilization enables steeper slopes and smaller job site footprints. The lightweight of materials such as geocells and geogrids allows large quantities to be delivered efficiently with far fewer truckloads. They also minimize the amount of soils and fills that might need to be brought into the jobsite.
Additionally, suppliers of geosynthetics provide guidance on proper handling of materials and site controls that should be observed to enhance safety.
Many engineering professionals are also experts in construction quality association, including with the installation of geosynthetic materials, and many manufacturers have licensed engineers on staff to assist with design and other site details that ensure higher levels of safety.
SAFETY STARTS WITH DESIGN
Regardless of the application, jobsite safety begins with design. It begins with planning. The incorporation of reinforcement and stabilization geosynthetics into a project can help minimize the jobsite footprint, reduce the amount of truck and heavy equipment traffic on site, and decrease the time of active work.