The Challenge

Florida is known for wet weather and soft soils. Not the most ideal conditions for highway construction. Both of these obstacles needed to be overcome during a roadway and bridge expansion on S.R. 415 just north of Sanford, Fla. Associated Construction Products Inc. (ACP) of Lutz, Fla., called upon Strata Systems for their technical expertise and resources related to geogrid-reinforced soil structures.
The project required a 1.84-mile stretch of highway to be expanded from two to four lanes. The presence of compressible soils below the new roadway footprint presented concerns that long-term differential settlement would be problematic with the precast concrete-panel retaining walls that were originally planned. The preferred Florida Department of Transportation (FDOT) solution was a 1H:1V reinforced soil slope using geogrid reinforcement. The plan consisted of geogrid-reinforced embankments on both sides of the proposed roadway and a multiuse path to be installed along the entire right side of the embankment.
ACP and Strata teamed up to provide the general contractor, UIG Construction of Sanford, Fla., a complete turnkey system. The design consisted of a 1H:1V slope with SG500 primary geogrid layers spaced 2-ft vertical and Microgrid intermediate reinforcement placed on 1-ft vertical spacing. The primary geogrid reinforcement addressed the overall global stability of the structure, providing an FS of 1.5. The Microgrid intermediate reinforcement addressed the local surficial stability of the 1H:1V slope. The final slope surface was covered with a synthetic erosion blanket to support establishment of the Bahia sod vegetation.
The contract also included installation of a temporary surcharge embankment at a nearby location using excess fill from the mainline site. Plans called for a 14-ft-tall, 1,300-linear-ft embankment with 1H:1V side slopes. The earth structure was installed along a proposed roadway alignment to facilitate consolidation of compressible soils below. A layer of SG350 geogrid was placed over the footprint of the embankment, followed by multiple layers of SG200 and Microgrid within the 44,000 SF inclined face area of geogrid-reinforced side slopes. The embankment is predicted to settle approximately 10 ft within six months.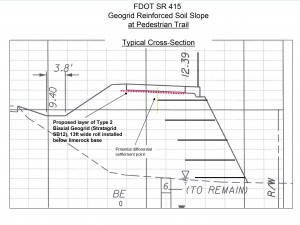 The final project consisted of 15,000 linear ft of 1H:1V Stratagrid-reinforced soil slope, totaling over 130,000 SF inclined face area slope face, representing FDOT's largest geogrid slope built to date. Alex Spade, project foreman with ACP, said, 'We're very happy with the Strata products, especially the Microgrid for intermediate reinforcement. We're proud to have built one of the largest slopes ever in the state of Florida.