The Challenge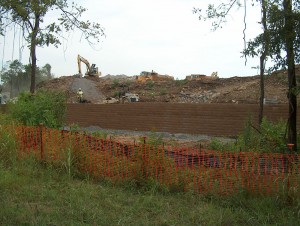 When plans were being made for a new Sam's Club in Hendersonville, TN, developers were presented with several challenges regarding the retaining wall on the property. First, the wall would reinforce a large area, rising 30 feet high and running nearly a half-mile. Areas behind the wall had a steep three to one slope, access roads for deliveries had to be accommodated, and because it backed up to popular walking/bike path and green area, it had to include safety railings. Plus, the upscale area, warranted an attractive wall system and design.
What's more, the contractor had to blast and remove over 250,000 cubic yards of rock, which had to be coordinated with the wall installers. The pressure was on to stick to a tight schedule because the building pad could not be started until the wall was at certain heights. Coordination was critical.
The Solution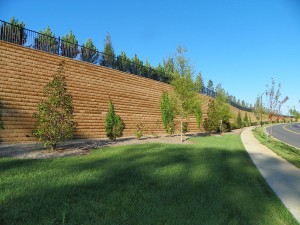 A team which included general contractor, White Spunner of Mobile, AL, wall contractor, Retaining Walls of Tennessee of Gallatin, TN, Lee Brick and Block, Keystone Retaining Wall manufacturer, engineering design team, Terracon Consulting and Strata's engineers worked closely to plan the wall. The process involved removing 250,000 cubic yards of limestone and placing 57 cut stone in its place for reinforcement behind the wall. Strata worked closely with Terracon's engineering team to specify the appropriate geosynthetic reinforcement materials and amounts needed for the varying conditions of the site. A total of 38,000 square yards of Stratagrid SG200 and 10,800 square yards of Stratagrid SG500 were placed behind the wall to reinforce the soil and rock. The wall was faced with attractive Keystone Compac III Hewnstone to complement the upscale look of the development. At the top of the wall, fencing was reinforced with 282 Sleeve-It rail integration system units to stabilize the fence along the walking/bike path.
The massive 32,323 square feet wall rose 30 feet high and stretched 2,248 linear feet.
Results
Sam's Club was provided with a stable, well-built wall that is an attractive feature to the shopping development and complements the upscale area and green area above it. Further, because the perimeter of the road behind the Sam's Club is adjacent to the wall, it allowed maximum use of the 19-acre site. Hikers and bikers along the path near the wall are kept safe with reinforced railings. The project was well-coordinated with the entire development team and kept to the timeline, enabling the pad to be installed on time.